Stainless steel soup bucket cooling stock pot
Product

Stainless steel soup bucket cooling stock pot

Item NO.

WT-B100204

Material
Thickness
Lid: 0.8mm
Body: 1.0mm
Aluminum: 4mm
Style

03 style low

body with composite bottom
Advantages of 03 style stainless steel kitchen equipment steamer induction stock pot with sandwich bottom:
* Ideal for stocks, soups, stews, pasta and more
* Easy to clean, strong and immune to rust.
* Sandwish aluminium base allows optimun heating distribution
* Extensive range of sizes available for commercial and home use
* Compatible with induction, gas, electric and ceramic glass cooktops* Dishwasher and oven proof
Product Details:
Top View
Prepare delicious soups or stocks for your service with the update international stainless steel cooking pot.

It's crafted from high quality stainless steel that doesn't react with acidic ingredients.

Stay-cool Handle

The stay-cool handles make it easy to remove from the oven. It's welded by spot welding so that it's more durable and heavy duty. This style of cooking pot has a good capacity of 24L.

Lid
Included lid fits the pot snugly which is well sealed. The hand shank is crafted by butt-joint. Its surface is brushed.
Composite Bottom
3-ply bottom for induction compatibility. Composite bottom structure prevents scorching of food. The thickness of SS430 is 0.7mm.
More Sizes
Item NO.
Size(mm)
Thickness
Alu.
Cap.

WT-B100201

φ250×180

0.8mm

4mm

9L

WT-B100202

φ300×200

0.8mm

4mm

14L

WT-B100203

φ320×220

0.8mm

4mm

17L

WT-B100204

φ350×240

1.0mm

4mm

23L

WT-B100205

φ400×260

1.0mm

4mm

32L

WT-B100206

φ450×280

1.2mm

5mm

44L

WT-B100207

φ500×300

1.2mm

5mm

58L

WT-B100208

φ550×350

1.2mm

5mm

83L

WT-B100209

φ600×400

1.2mm

5mm

113L

WT-B100210

φ700×450

1.2mm

5mm

173L

WT-B100211

φ800×500

1.2mm

5mm

250

L
Stainless steel soup bucket cooling stock pot
helps you to create all sorts of delicious dishes. It has stay-cool handles that make it easy to remove from the oven. This stock pot has various capacity for holding lots of food at once. The stainless steel material is easy to clean, strong and immune to rust.
Packing and more products: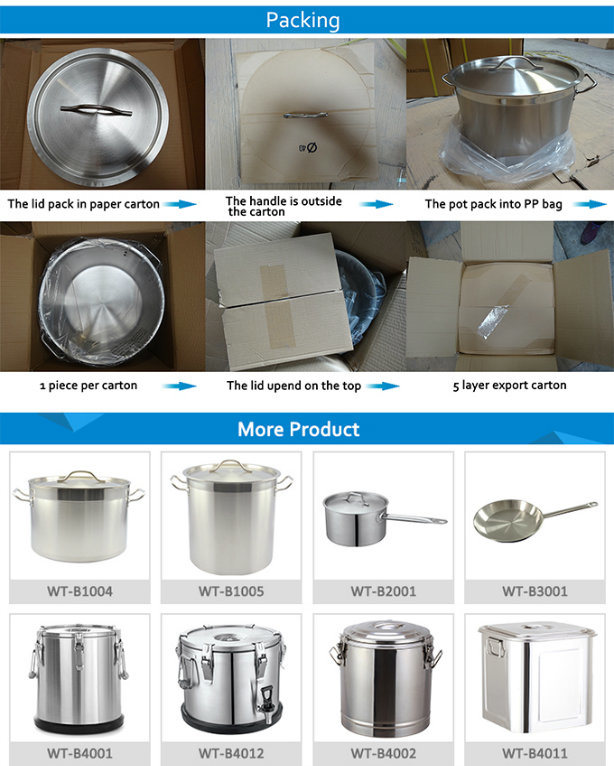 About the packing of
Stainless steel soup bucket cooling stock pot
, firstly the lid will be packed in paper carton separately with the handle outside carton. Then the pot will be packed into PP bag. There is 1 piece per carton. Thirdly, the lid is put upend on the top. Finally, the whole pot is put in a 5 layer export carton. Such way of packing can make sure the delivery safty of the pot.
Our Company: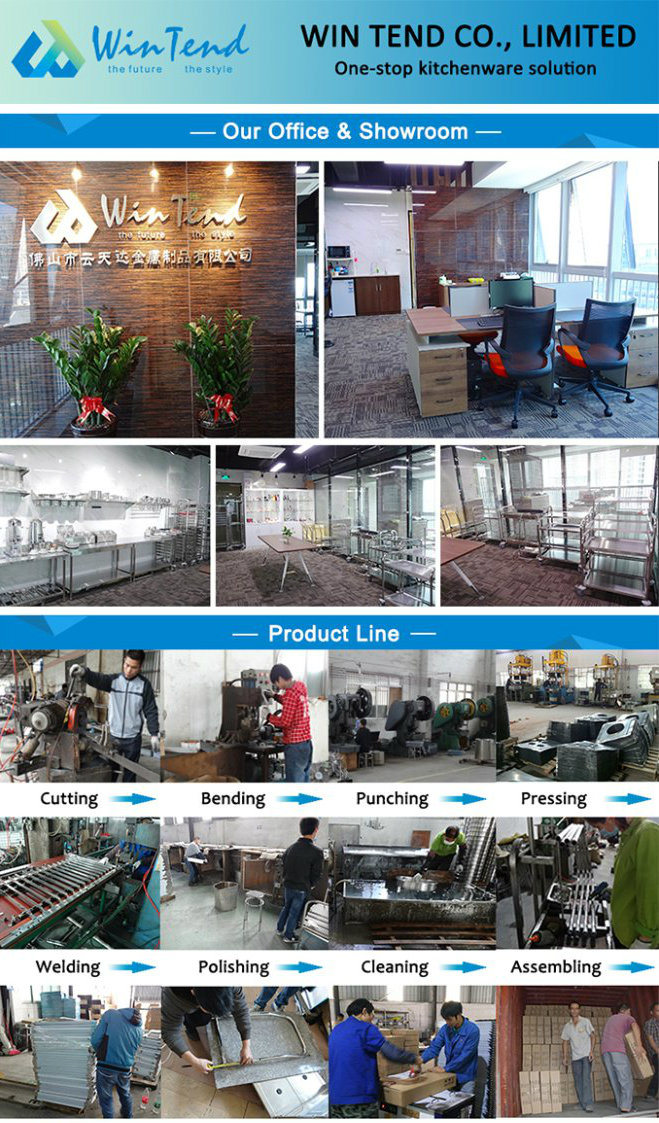 WIN TEND CO., LIMITED
is a group company consist with 5 main Jiangmen & Foshan workshops (trolleys workshop, pots workshop, table and shelf workshop, buffet workshop, kitchenware workshop) + 1 showroom in Foshan which is only half an hour away from Guangzhou. Factory is member of BSCI since 2015. Also more than 30 good relationship cooperate factories such as the porcelain and silicone factory.
WIN TEND CO., LIMITED
keep developing and searching innovative goods, about 500 products in our catalogue satisfied customer various demand. Our products could pass FDA, LFGB.
WIN TEND CO., LIMITED
in order to meet customers' specific design and quality, WIN TEND continue introduce advanced technology and machine such as laser machine, NC cutting machine, hydraulic machines. OEM & OEM are welcome.
WIN TEND CO., LIMITED
pay high attention to QUALITY, all production process under well trained QC team. Every order should be inspected by salesman and send customer report before delivery.
WIN TEND CO., LIMITED
main market is Euro, USA, Middle East and Asia, 10 yeas export experience better assure the business with WIN TEND would be smoothly.