Multifunctional Cool Vacuum 360 degree Fat Freeze Cryolipolysis Cool Tech Cryo Slimming Machine
1. 360o all-dimension surrounding cooling applicators
2. Comines heating and cooling technology
3. 1MHz multipolar rf skin lifting and tightening
4. 100mw lipo diode laser fat reduction
5. User friendly interface with touch screen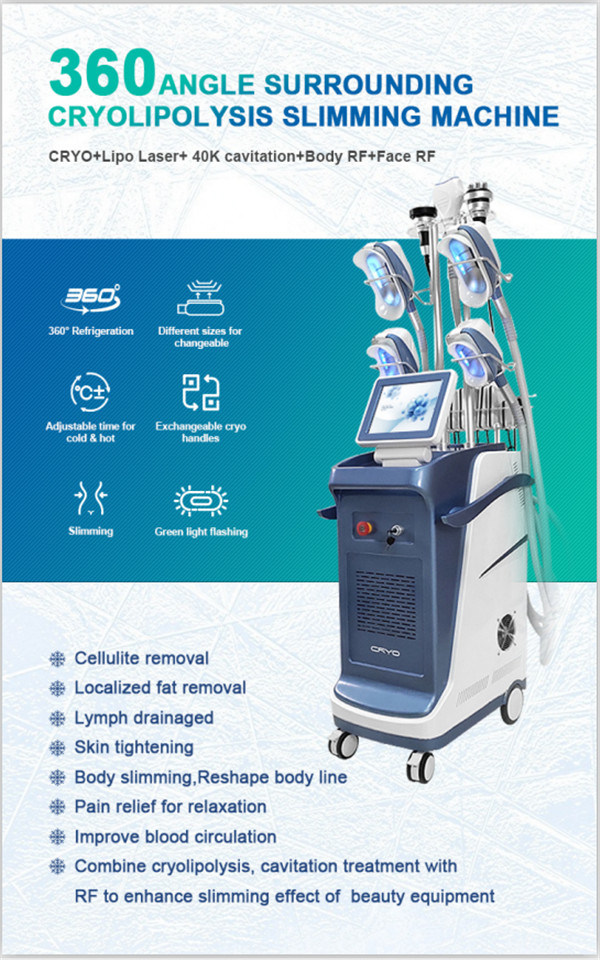 What is 360 cryolipolysis?
360 degree full range of cooling and heating, freezing at minus 10ºC to positive 45ºC heating, 4 groups cycle modes for operation, parameters can be set flexibly; 8pcs different sizes cryo handles are suitable for different size areas and body shape.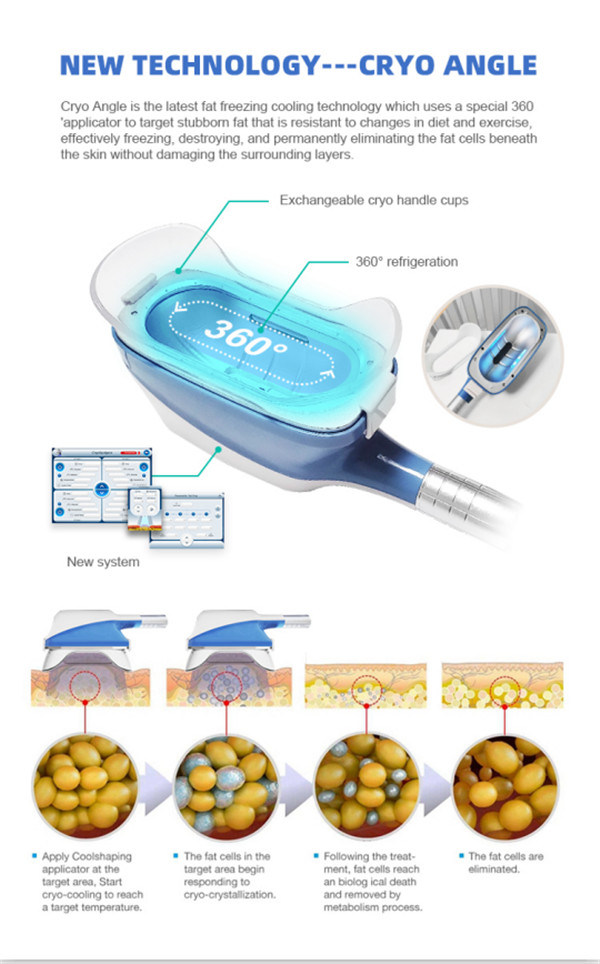 This Cryolipolysis machine uses heating and cooling technology to safely and effectively eliminate fat cells. It has 4 specially designed 360 cryolipolysis applicators which firstly deliver heat to the target area to improve blood circulation, followed by cooling to minus temperatures which freeze the fat cell without damaging the overlying skin.
FUNCTION
1. Body shaping, fat dissolving, repel the cellulite, weight loss.
2. Skin tightening, skin lift, skin rejuvenation.
3. Work on the whole body: legs, thigh, buttock, waist, belly, arms & underarms, neck, double-chin.

ADVANTAGE

1. Newest and safe cryolipolysis machine on the market, 4 cryo handles could be used simultaneously, reducing treatment time by half and maximising profits.
2. Special 360° cooling cryolipolysis handle for more effective and comfortable treatment.
3. Patients resume normal daily activites immediately after treatment
4. Heating technology help avoid skin frostbite and promote blood circulation of treated area.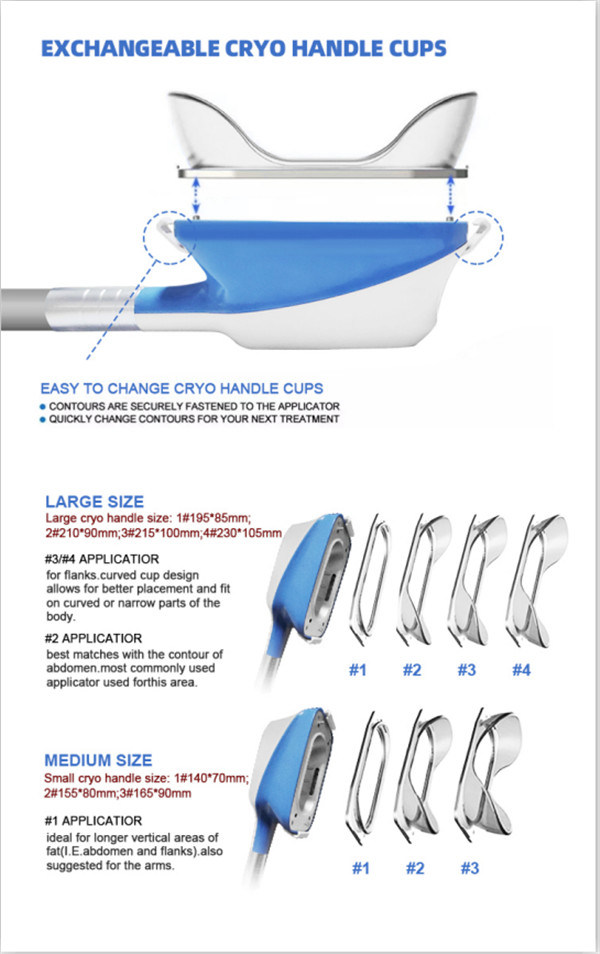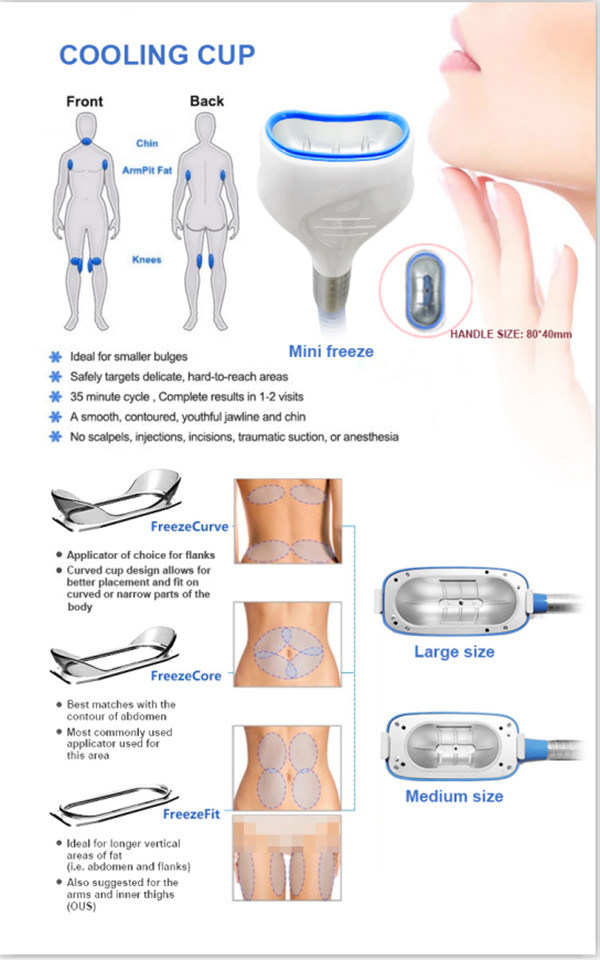 PARAMETERS
| | |
| --- | --- |
| Voltage | AC110V/240V |
| Power | 800W |
| Temperature | -10ºC-45ºC |
| Negative pressure | 0-80Kpa |
| Laser power | 100mw/pcs |
| Screen | 10.4 inch touch screen |
| Body RF | 1Mhz |
| Lipolaser | 635nm-650nm |
| Cavitation frequency | 40Khz |
| Gross weight | 56kg |
| Machine size | 106*73*65cm |
USER INTERFACE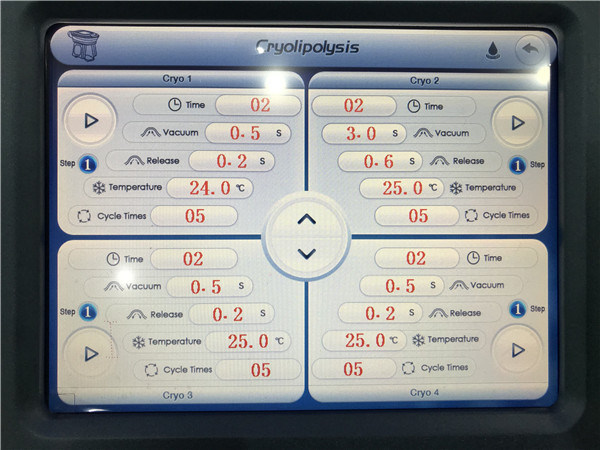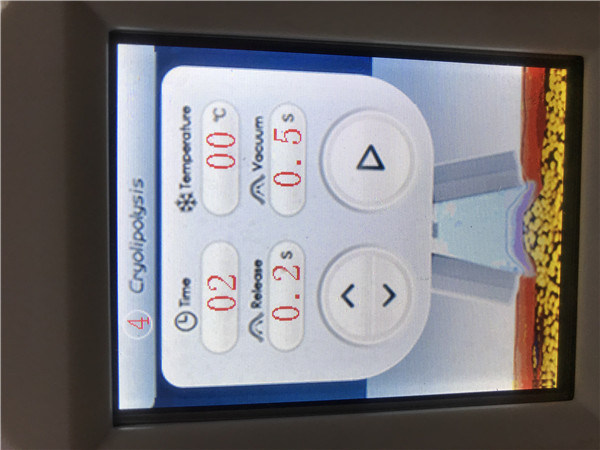 MORE PHOTOS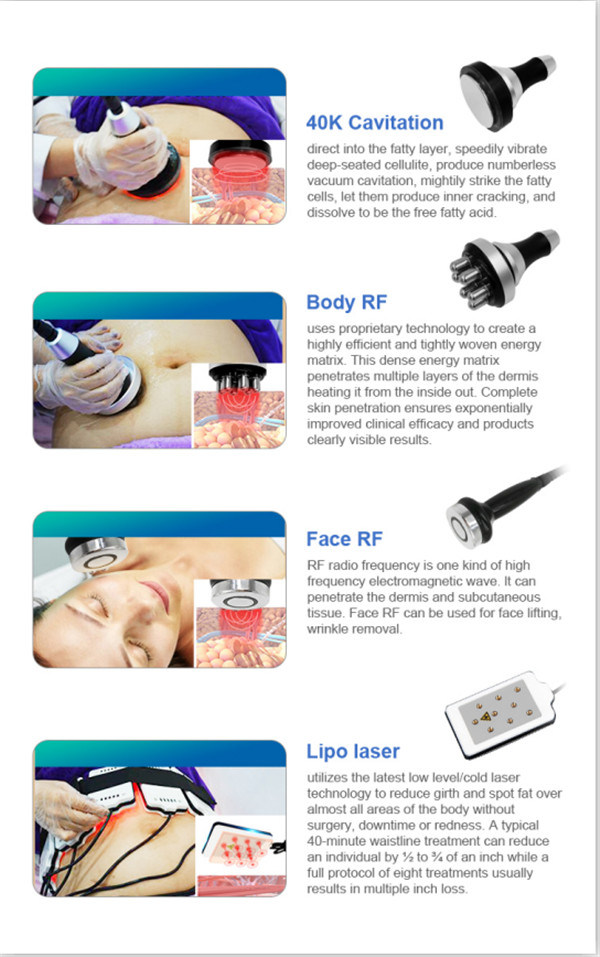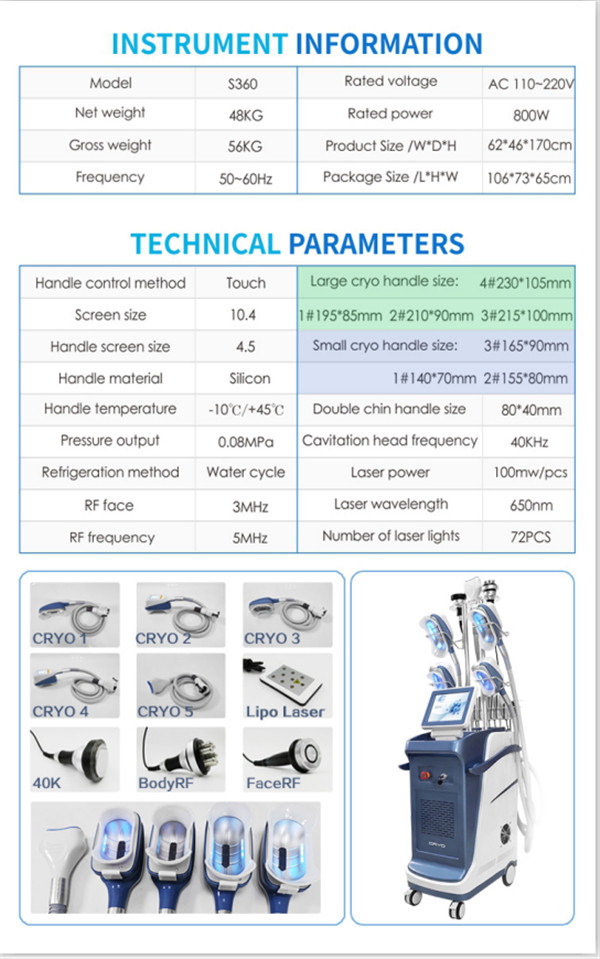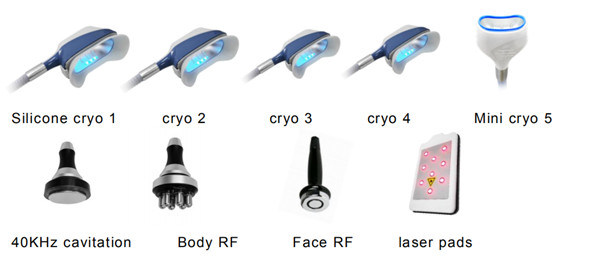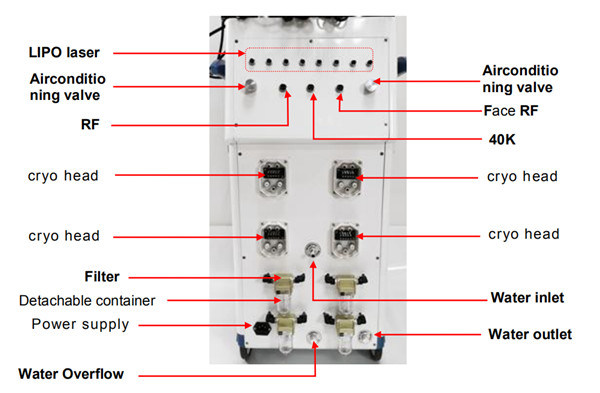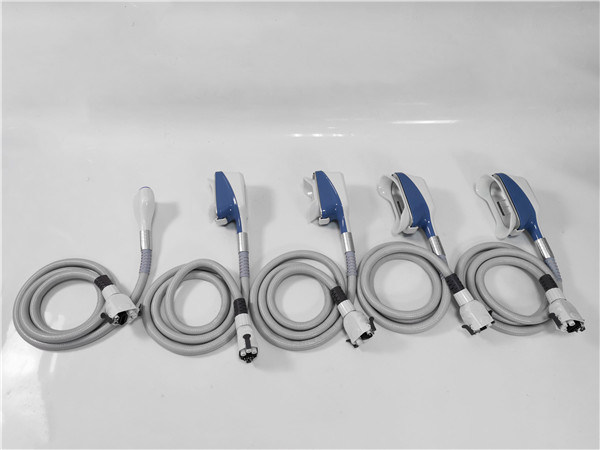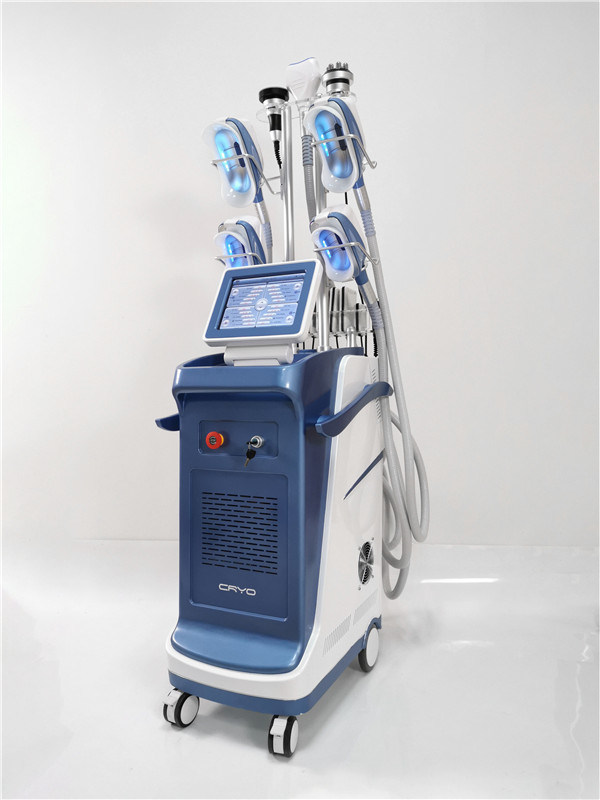 FAQ
1. Is the fat freezing treatment effective?
A: The freeze dissolving technique was previously studied by the Aesthetic Limited by Share Ltd in California, USA, and designed a cooling device for removing heat from subcutaneous fat cells. Subsequently, the research was developed as a freeze dissolving grease instrument, which is patented product obtained by FDA certificateion in the United States.

2. What are the characteristics of this fat freeze dissolving equipment?
A: The cryolipolysis instrument is the patent product, for the pre freezing in tissue necrosis and other injuries, the design improvement of freezing method, to promote separation of blood and skin preheating, then fat, cryolipolysis is safer, fat removal the fat dissolving. In addition, the dual channel design allows for simultaneous treatment of two sites at the same time, with time saving and high efficiency!

3. What is the process of freezing and dissolving fat?
A: Fill out the schedule-ask history- examine body condition-identify treatment options-locate treatment area-apply anti-freeze membranes-start treatment-end.

4. How about the treatment of frozen fat? Is there a recovery period?
A: Each course of treatment is about 30 mins to 1 hour, the same part of each interval of 2-3 months, the proposed 2-3 treatment, according to the actual treatment effect, appropriately increase or decrease the number of treament. This treatment is non-invasive, and does not affect normal work or like after treatment. The office worker may also be treated during the rest period.

5. How does fat change after treatment? How does the body react?
A: After treatment, fat cells begin to decompose and remove naturally. The fat layer is gradually thinned and the process is mild. The whole course is non-invasive, and the treatment site may be red and last for several minutes or hours. Bruises may also occur and subside within a few weeks. A few patients feel less sensitive to the treatment site and will subside within 1 to 2 months.

6. Will the treatment hurt? How about the effect?
A: This machine uses intelligent program-controlled system, to achieve accurate control of temperatue and pressure, real-time monitoring and alarm system, the treatment of temperature regulation in the safe range. Patent technology of blood lipid separation technology in the treatment of pre warming skin, warm feeling, and then gradually cool down, so that the skin slowly adapt to the freezing process. Clinically, there is no pain, no invasive wound. The negative pressure at the beginning of the course of treatment will cause discomfort due to strong suction. It will soon disappear, and then there will be a cold numbness in the treatment site. During the treatment, patient can relax, take notes, surf the Internet and listen to music.
The therapeutic effect varies according to individual constitution and dietary habits. Patients with significant reductions in fat levels should maintain at least one year after the couse of treatment. These are the expected absorption clear lipid return treatment site speed than invasive liposuction to the course as fat. But irregular diet and lifestyle can lead to weight gain that may effect later outcomes of treatment.