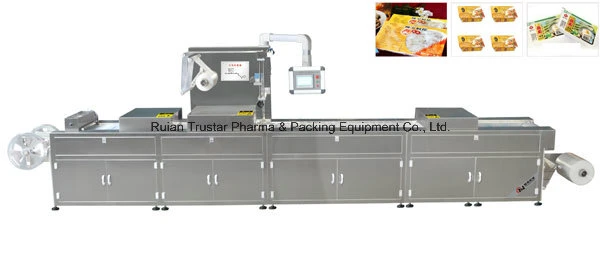 Automatic Continous Stretch Vacuum packing machine
1. Brief
This is the latest product develop by our company, the use of foreign advanced technology and combination the DLS series vacuum pump packing machine's character, Self innovation design and production of automated assembly line packaging machinery, is the first domestic products,completely replace imported equipment. This machine is suitable for various products for vacuum,inflatable,fitted to the plastic/paper/ plastic packaging.
2. Features
1,Servomotor,Touch screen and PLC control make operating and adjusting easily.

2,With a World first-class vacuum packing pump made in Germany, advantages include fast speed, steady quality and good durability.

3,Advanced transverse and longitudinal cutting system make change easy and simole and no sides cutting make little waster in material.

4,With a slide chut position,the mould can be replaced easily and accurately. The mould is equipped with a cooling system available.

5,Photoelectric follow-up: color cover film or optical film can be used for packaging,reducing cost and upgrading the products.

6,According to user's requirements for product packaging,nitrogen or other protective gas can be filled into the package after vacuuming

7,With clamping chains imported, this machine is applicable for stretch shaping of soft films,hard films and semi-hard films with different thickness.

8,Nice-looking appearance of Dackaaed matter. with even aualitv of bubble and good sealing performance.
3. Main Technical Specifications
| | | | |
| --- | --- | --- | --- |
| Model | TLS-520Z | TLS-420Z | TLS-320Z |
| Width of upper film | 492mm | 392mm | 292mm |
| Width of lower film | 522mm | 422mm | 322mm |
| Vacuum degree | ≤200Pa | ≤200Pa | ≤200Pa |
| Compressed air | ≥0.6MPa | ≥0.6MPa | ≥0.6MPa |
| Cooling water | ≥0.15MPa | ≥0.15MPa | ≥0.15MPa |
| Power source | 380V50HZ | 380V50HZ | 380V50HZ |
| Net weight of whole machine | 2200kg | 1900kg | 1500kg |
| Machine Size | 7500×1400×1900mm | 6150×1200×1900mm | 5100×900×1800mm |
4. Samples





About us
1. Our company
Trustar Pharma & Packing Equipment Co.,Ltd Culture
Work style: solid credibility, authority and reliable;
Enterprises purpose:integrity services to customers, a service win customers;
Teamwork:win-win team the importance of care and mutual benefit, work with
Progressive;
Market concept:the interests of users is always what Trustar pursuit;
Dealers coexistence with the principles:mutual benefit and common development;
2. Frequently Asked Questions (FAQS)
what if there are some complicate problems about machines after buying them?
contact with us by email or telephone, even we can go to visit you with our
technician if it necessary.
what's your advantage about your products?
good quality with favorable price, produce equipment according customer's
What are kinds of pharma machine fall within the scope of your business activities?
Main in Pharmaceutical solid dosage machine from RMG,Fluid Bed Dryer,Tablet
Press,Tablet Sugar/Film Coating
machine,Blister packing machine,cartoner
Other questions or comments?
Please

contact us

online or call us.