Vacuum Meat Bowl Cutter

Meat Mince Chopper


YC Mechanism Vacuum Cutter Technology is founded on practical development with
many years of experiences. Modern, high-capacity machine for industrial production of
all types of top quality sausages, such as dry sausages, boiled sausages, cooked sausages
and canned goods. We are known throughout the meat industry for the quality and reliability
of our range of bowl cutters, manufacturing a few Models from 125 L to 420 L.

The main parts of machine we using good quality famouse brand.
1)vacuum pump is BUSCH;
2)Bowl bearing is JAPAN NSK with diameter 630mm pressure model, the low cost machine using bearing is Tapered roller bearing with diameter 300mm;
3)Knife Bearing is SKF made in SWISS.
4)motor is SIEMENS Special frequency conversion motor;
5)Frequency Changer is YASKAWA with Vector constant torque model,this good Frequency Changer can make sure the state and speed of knife ,
low cost machine using common Frequency changer,if meat is thick the speed of knife will be low 30-40%;
6)electric parts is using Swiss ABB .
7)belt is JAPAN BANDO.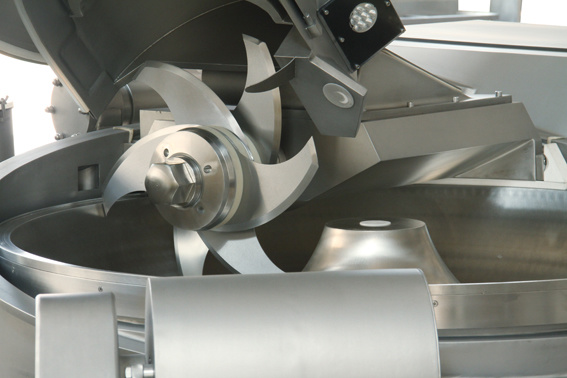 Model

Volume (L)

Cutting Speed (r/min)

Pot Speed (r/min)

Discharger Speed (r/min)

Power(KW)

Cutter Quantity(Pc)

Rated Voltage




(V)

Vacuum Level




(Mpa)

Weight




(Kg)

Dimensions




(mm)

ZKZB-125

125

300-4200

0-10

Infinately variable drive(Speed gear-shift is also available upon request)

35.2

6

380

-0.085

2425

2160*1750*1300

ZKZB-200

200

400-4000

0-10

86.4

6

380

-0.085

4100

3280*2590*1500

ZKZB-330

330

360-3600

0-6

102.4

6

380

-0.085

5000

3850*3000*1750

ZKZB-420

420

360-3600

0-6

144.4

6

380

-0.085

5800

3940*3030*1850

ZKZB--530

500

3600

0-6

146

6

380

-0.085

6000

4100x3000x1600
Due to excellent coordination of cutting speeds, bowl speeds and form of knives,
we offer the technology for processing large pieces of meat. Saving time isn't the only
advantage of using our Vacuum bowl cutter to emulsify, coarse chop or fine chop products.
Not only is the grind/mix /regrind process time consuming, but you are missing an
opportunity to extract the maximum amount of protein from your meat mixture so you can
produce high-quality, value-added products. Maximum protein extraction translates
to increased binding and weight retention, which equals less cookout and increased yields.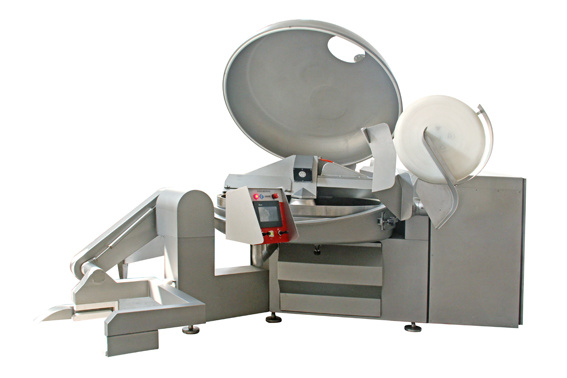 Advantages:


1. High-graded SUS 304 stainless steel construction with 6 blade knife-headed Cutter.
2. Innovative axle shaft design.
3. Automatic water feeding system (optional).
4. Superior quality solid stainless steel bowl attached with large diameter bearings
& guarantees a smooth Vibration-free cutting.
5. Touch-Screen Monitor System (All movements - Loading/Unloading, Bowl cover,
Knives & Bowl Speed, Vacuum system, Batch No, Time of process, Products
temperature, Volume of water added, Fault diagnostics) by touch of a finger on
Coloured LCD display.
6. Designed with observation windows and material filling hole.
7. Smooth control cut-mixing rotations and bowl rotations gives a wide range of programmes
which can be used in every cutting process.
8. Low vibration level due to balanceable knife head & minimal noise drive system.
9. Easy cleaning and maintenance.

Advanced-Design guarantees correct functioning on the machines that really stay the
course. No moisture or particles can possibly reach the knife-shaft bearings, due to the
patented knife haft sealing system and lubricating bearings can be done without un-screwing
the parts apart trouble-free operation.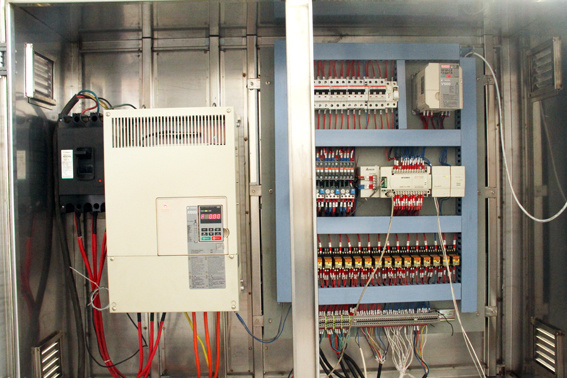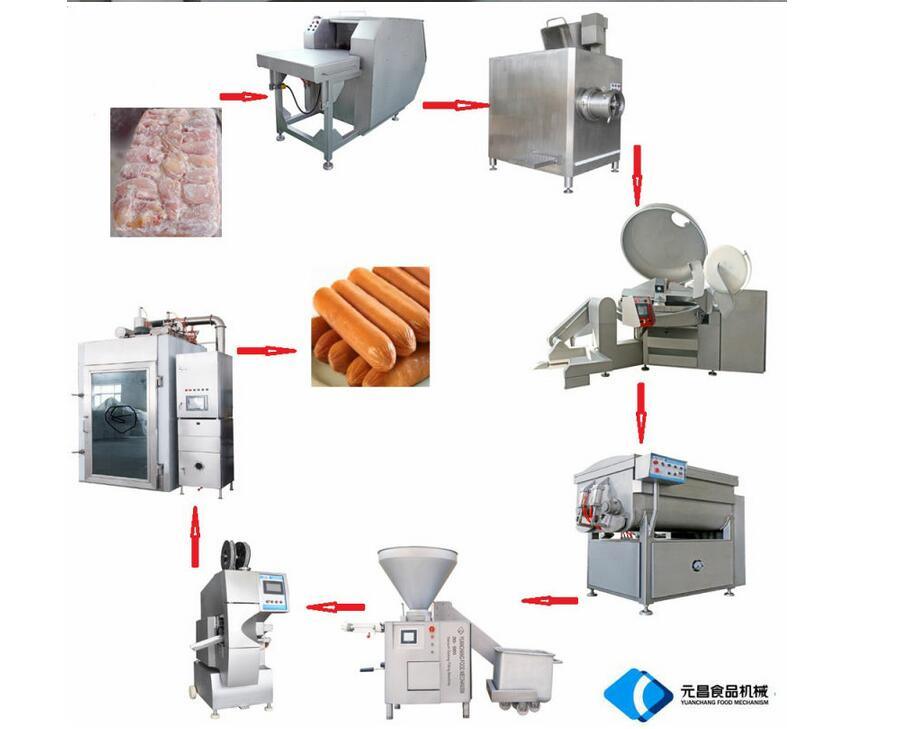 YuanChang Food Mechanism & Technology Co. Ltd
Our Company was established in 1986 with a group of excellent technicians and qualified
professionals, a leading manufacturer of meat processing machine in China.
W
e specialized in
producing various kinds of meat sausage processing machines
w
ith advance technology, high
quality, durable use and excellent precision.
Our product includ
ing
:
1. Quantitative Vacuum Sausage Stuffer filler,
2. Automatic Sausages Double clipper,
3. Vacuum Bowl, Cutter Chopper,
4. Vacuum Meat Mixer,
5. Fumigating Smoking oven Smokehouse,
6. Rolling & kneading Machine/Vacuum tumbler,
7. Brine Saline injector,
8. Frozen-Meat Grinder Mincer,
9. Frozen meat loaf and Slice cutter Machine,
10. Meat Tenderizer Machine,
11. Lifter/Elevator,
12. Hopper Trolley etc.