1Kg-2Kg/Batch Mini Freeze Dryer for Laboratory & Home
Model: NovaDryer-HF100(B)
Factory Direct Online Technical Support & Video Technical Support Available!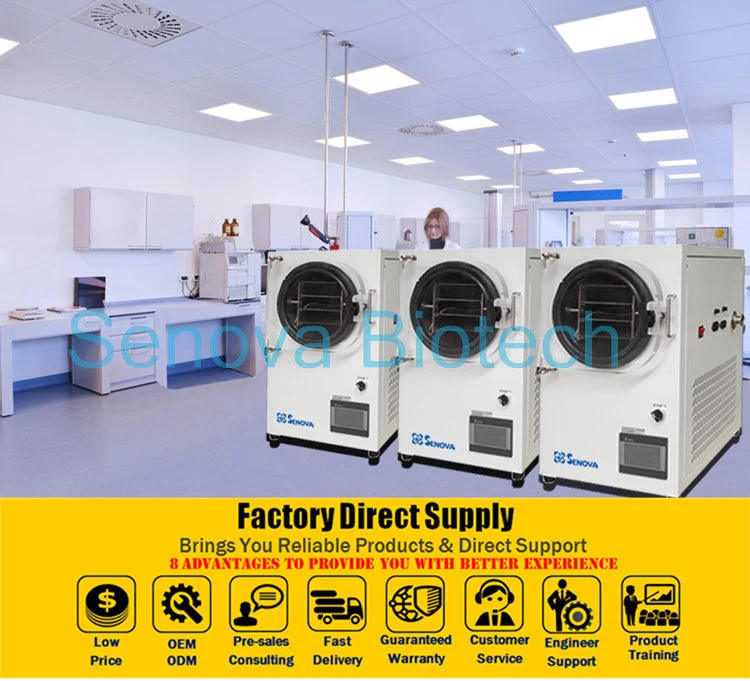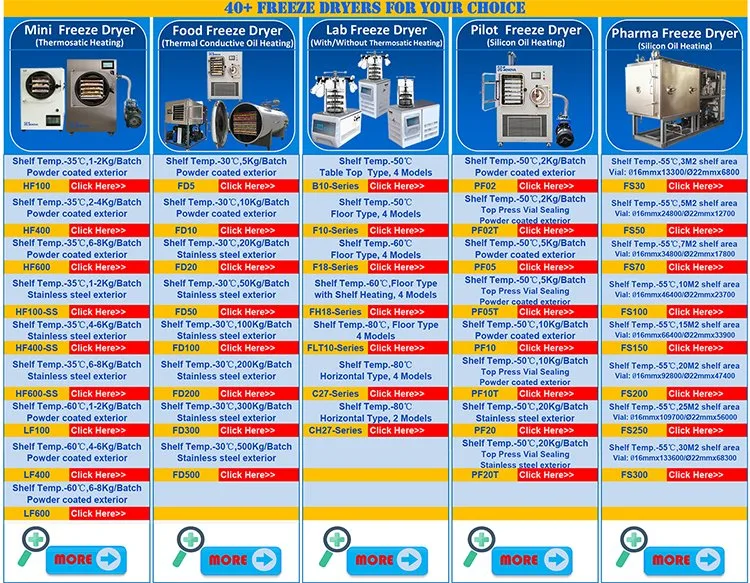 Product Description
Applications
Mini Small Laboratory Vacuum Freeze Dryer NovaDryer-HF100(B) is used for freeze dry of samples in laboratory,hospitals, food industry and pharmaceutical industry as well as for food industry.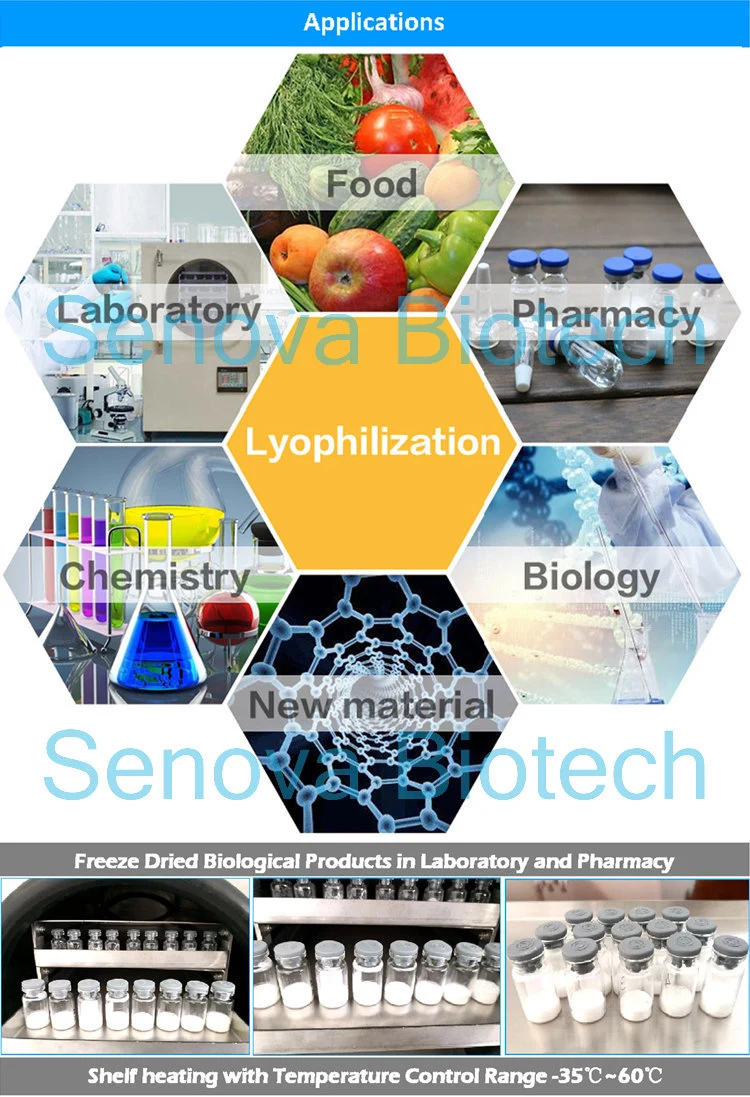 Main Features
Mini Small Laboratory Vacuum Freeze Dryer

LCD Touch screen, one-key start, low noise, large capacity

Automatic freeze drying process, easy and convenient

Commercial grade vacuum pump

Low operating current and low energy consumption

Solid stainless steel 304 food tray and chamber reliable for food safety and easy for cleaning

Clear organic glass door with direct observation of freeze drying process.


Specifications
Product
Vaccum Freeze Dryer
Model
NovaDryer-HF100

Food Shelf Area

0.1cm2

Shelf Size

145x275mm(3PCS+*Top Shelf:1PC)

Shelf Space

45mm

Single Batch of Samples (Kg/24Hr)

1-2

Cold Trap Temperature

(OC)
-35

Extreme Vacuum Degree(Pa)

10

Dimensions (WxDxH,mm)

510x750x830

Power(W)

750

Power Supply

AC220V/50Hz (Optional: 220V/60Hz, 110V/60Hz)

Net Weight (Kg)

53Kg
*If you can not open the above links with Alibaba.com APP on mobile phone, please use IE browser to visit: kehong.en.made-in-china.com
Company Profile
With R&D and production base in Shanghai as well as over 15 years of experience in international market for constant temperature & refrigeration equipment, Senova is the international sales center to serve our global distributors with both reliable products complying with international standard and after-sales service.

FAQ
Q

What is HS code of this freeze dryer?

A

8419399090

Q

How can I get a quotation and brochure with pictures and technical details?

A

You only need to advise a specific model and quantity you need, you will receive our quotation with details.

Q

What are advantages of your freeze dryer in price and quality?

A

1. For a freeze dryer, the price is important but it is not the most important. Its performance and quality are more important.

2. In the market, there are too many low-end freeze dryers with very low price. You may buy a cheap freeze dryer but

get many headaches in the next coming years. Do not waste your budget on a cheap product in poor quality any more!

3. When you choose a freeze dryer, please remember to check important specifications such as:

þ

No-load Freezing Time

þ

Maximum weight(Kg) per Batch

þ

Pre-Freezing Time

þ

Freeze Drying Time

þ

Min. Tray Temperature

þ

Tray Material and Qty

þ

Brand and power of c

ompressor(decides freeze dry speed)

þ

Vacuum Pump Speed

þ

Vacuum Pump Power

þ

Defrost Method

þ

Defrost Time

þ

Tray Size & Space (It decides the size of food/fruit/flowers/samples for freeze drying)

þ

Controller (LED/LCD/Soft Touch Colour LCD)

þ

User Programming

4. For our specifications, please contact us for details.

Q

Power supply in our country is 110V/60Hz or 220V/60Hz instead of 220V/50Hz. Does this freeze dryer work?

A

Our freeze dryers can be used for power supply of 200V-240V/50Hz, 200V-240V/60Hz and 110V/60Hz.

Please indicate your local power supply when an order is placed.

Q

Can this freeze dryer be used for laboratory?

A

Yes, it can be used for solid and liquid samples for laboratories.

Q

Can this freeze dryer be used for home purpose?

A

Yes, it can be used for flowers and food including fruit, vegetables, milk, coffee, even pet food.

Q

How can I choose a right model?

A

We have 3 models of small/mini freeze dryers: NovaDryer-HF100, HF400 and HF600 with different capacity and

shelf space. Please contact us so we can recommend you a proper model according to the capacity (Kg/batch or L/batch) your need and the size of your food, fruit, vegetables, flowers or samples.

Q

What is the normal operating vacuum level?

A

Its vacuum degree is 15Pa.

Q

Is this freeze dryer available in English version?

A

Yes, it is a must! We are selling our freeze dryers worldwide, the freeze dryer, user manual and training course are

all in English. please contact us for photos for your preview.

Q

Is the user manual available in English or other languages?

A

Yes, our standard user manual is in English. If the user manual in other languages is needed in your country, we can

give you special support by offering you English manual for your translation, then we print it here and include the user manual in your Language inside the package before shipment.

Q

The socket in our country is different from yours. Can the plug change into our local standard?

A

Yes. The power cords with various plugs are available. Please indicate your request for the plug, so we can offer the

power cord with the proper plug accordingly.

Q

Is this freeze dryer ready to use when we receive it?

A

The freeze dryer is ready to use. You only need to follow the user manual to connect the vacuum pump to the freeze

dryer. Plug it into your socket to power on, then you can start to operate it by using the soft touch screen. Remember, to ensure proper use of this freeze dryer, you need to read the user manual first!

Q

This is my first time to order this freeze dryer. Is it difficult to install and operate the freeze dryer?

A

We offer various information to ensure easy and fast installation at your side. These information includes:

- User manual

- Installation instruction

- Check List with pictures of each accessories included in the package.

- A video on quick installation and operation guide which you can watch by mobile phone or PC.

Q

To start use of this freeze dryer, do we need to buy parts and accessories locally?

A

You do not need to buy any parts locally. For a standard packing list, please contact us for preview. A packing list

is also included in the user manual which is offered together with the goods.

Q

A oil vacuum pump is included as stadard configuration, but can I change it into a oil-free vacuum pump?

A

Yes, you can. For extra cost, please contact us for a quotation.

Q

What is your standard package?

A

To ensure safety of the goods during international shipment by sea or air, we only use plywood case instead of

cartons or other fragile packages.

Q

Can this freeze dryer be shipped by air?

A

Yes. It can. For shipment by air, as there is a compressor with refrigerant, a chemical inspection and a magnet

inspection are compulsory to be made by the authorities before shipment with extra cost (About USD170/shipment for chemical inspection and about USD80/unit for magnet inspection which are not included in our price). If you can wait, we suggest shipment by sea so as to reduce your cost. If you need it urgent, it can be shipped by air too.

Q

Can we check the quality before shipment?

A

Yes. Before shipment, we can offer real pictures and videos of the actual freeze dryer with all the accessories which

you order so you can see its quality and performance before packing. After you confirm everything is accepted, we can ship the goods according to delivery schedule.

Q

You are a Chinese company, why do we need to make payment to Citibank Singapore(Citibank N.A Singapore Branch)?

A

This is Alibaba policy for its Gold Supplier. It is an offshore bank account and Alibaba ensures your payment will be received by the supplier.

Q

How can we pay for the freeze dryer?

A

Visa or Master Credit Card or by T/T.

Q

What is your standard delivery time?

A

5-10 working days after receiving your payment. It depends on quantity you order.

Q

Where is your company location ? How can we visit there ?

A

Our factory is in Shanghai, the most booming city in China , 30Km away from Shanghai Pudong International Airport.

Welcome to visit us !

Q

What certification do you have?

A

ISO 9001 and CE certificate.

Q

What is your service?

A

Online technical support for consultancy and trouble shooting

Video training and demonstration

Quick supply of spare parts ensured

Factory training is provided if necessary

Q

What is your warranty?

A

12-month standard warranty. 14 month warranty is provided for inventory order to keep stock. Lifetime maintenance.
Contact