Product Description
Industrial evaporative air cooler for factory air cooling and ventalation,Mouted Type Industrial Evaporative Air cooler,energy saving industrial evaporative axial cooling air conditioner air cooler 18000M3/H
Taizhou Yingshi (Taizhou Chunya Air Cooler ) is professional evaporative air cooler manufacturer,air cooler company. we are major in produce evaporative air cooling, evaporative air conditioning, ventilation equipment, cooling fan,evaporative air conditioner, portable air cooler(Mobile air cooler), industrial air cooler (commercial air cooler), ducting air cooler, roof mounted air cooler, window air cooler, swamp cooler, desert cooler.cooling pad, air cooler parts.Poultry fan, Negative pressure fan,exhaut fan
1.1kW 3 phase 220V 50HZ/60HZ industrial axial evaporative air cooler with the frequency inverter controller
1.1KW 3 phase 380V/415V 50Hz//60Hz commercial axial air cooler
1.1kW 1 phase 220V 50Hz/60Hz industrial evaporative air cooler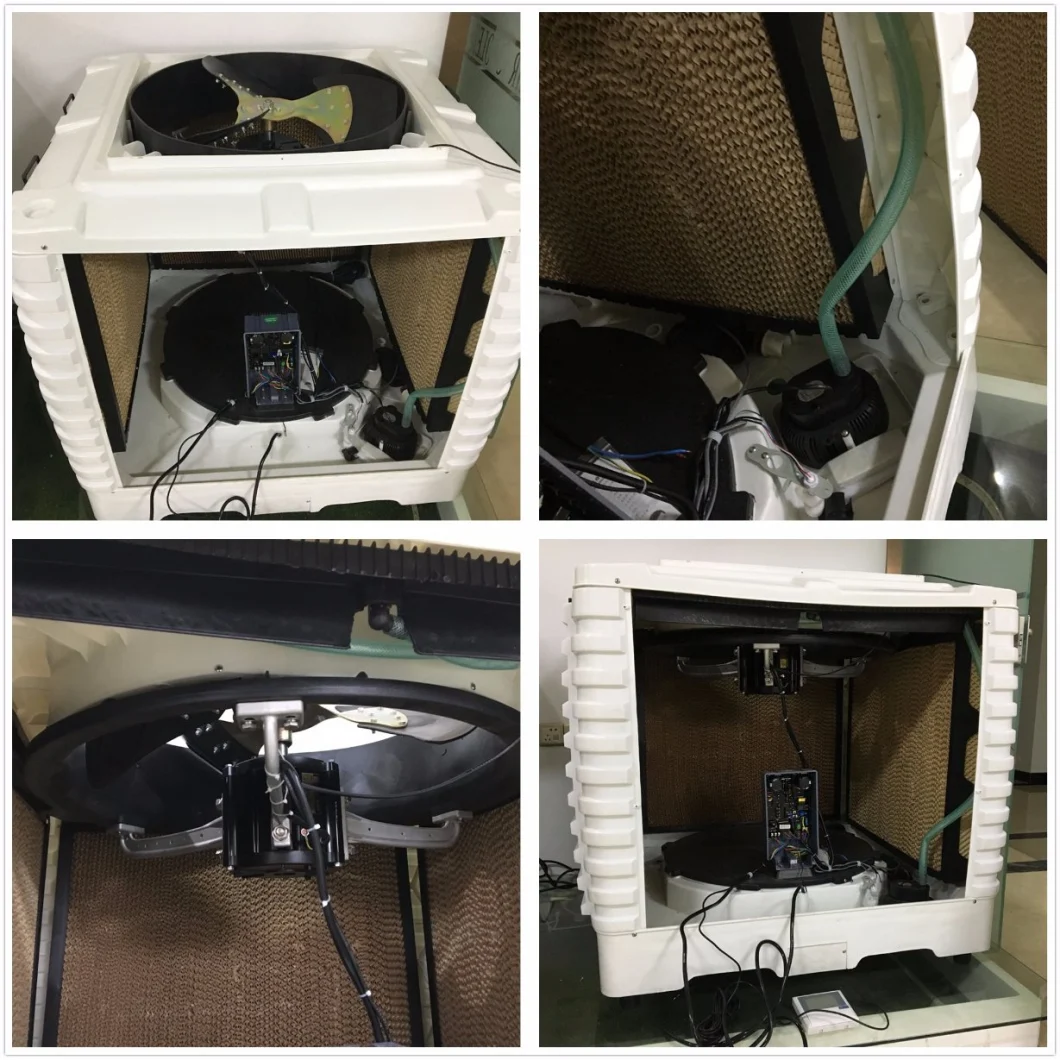 The side plate of the air cooler body is a new PP plastic.

Main Feature:
1. Full-automatic LCD speed controller, easy operation and steady performance.
2. High voltage mute sound type nylon fan blade, big air output, low-energy consumption, and low noise.
3. Complete protection, over-current protection, open phase protection, under voltage protection, water shortage protection, full-automatic water supply and drainage function.
4. Automatic control water-supply system, divide water fluency, automatic clearing, no jam.

Easy Installation and Maintenance
The simple design of air coolers makes it easy to install and the maintenance of air coolers is easier than that of the air conditioners. You can easily clean the air filters yourself without approaching air cooler services providers.

1.1KW 50Hz axial air cooler advantages:
1. Power saving: It can save over 80% compared with traditional air conditioner
2. Eco-friendly: No harmful material, no Freon during operating.
3. High Efficiency: Use the minimum power to make the max cooling and purifying effect.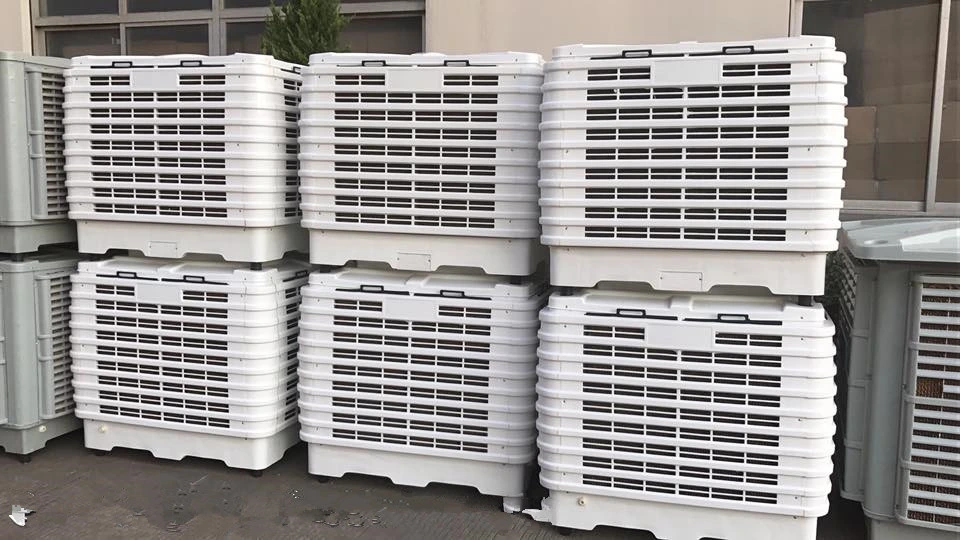 Appliacation:
1. Public places such as supermarket, shopping mall, showroom, gymnasium, restaurant & bar, school, conference hall, shop-floor, canteen, office, recreation facilities, etc.
2. Textile and clothing industry such as weaving factories, woolen textile factories, silk factories, socks factories, knitwear factories, cotton spinning factories, flax textile factories and garment workshop, leather industries, shoes-making factories; Etc.
3. Other places such as product storage, hot industry, greenhouse and stock-raising farm, etc.


Cooling principle
Evaporative cooler is a high-tech product developed by the company. It utilizes "evaporative cooling" principle completely, adopts high efficient wet curtain evaporator. Therefore the evaporative cooler has better cooling effect, and can filter the air in the dust, improve air quality.
The cooling principles is: Exhaust air by fan from the unit, then it will be negative pressure inside unit; At the mean while, water is sent to water distributor by pump and sprinkle the surface of wet curtain evenly, and the water will flow directly into the side of air inlet of wet curtain which is designed with special angle; When the hot air passes the surface of wet curtain with water, it will loose considerable heat and get cool, also the air is filtered; Finally, the air become cool, comfort and fresh and the remained water will flow to drainage pan and wait for water cycle.

With high quality material, advanced machinery equipment and good skilled + experienced workers, our air cooler are in high quality.
For more details you can contact me freely!
Model:

CY-DA

Air flow:

18000 m 3 /h

Voltage:

1 phase,220V/50HZ
3 phase,380V/50HZ
Variable frequency

Power:

1.1KW

Decibel:

≤70Db

Fan type:

Axial

Water tank:

25L

Controller:

remote controller 12 speed,
manual controller 1 speed

Wind outlet type:

Top, Down, Side discharge

Size:

1.08*1.08*0.95m




Wind outlet size:

670*670mm

Weight:

50KG

Usable area:

100-150m 2