Automatic nuts / rice / seed / bean granule brick vacuum packing machine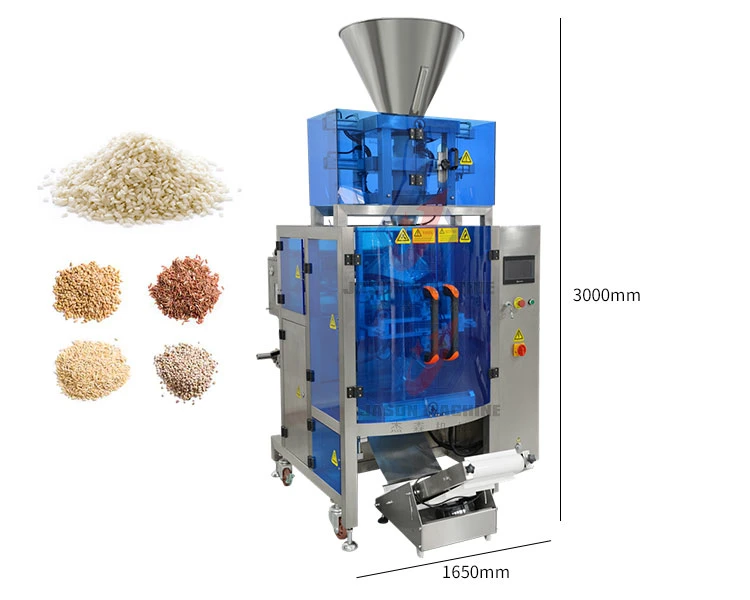 Technical characteristics
1. Chinese and English touch screen display, intuitive operation and simple.
2. PLC computer control system, the operation is more stable, and any parameter can be adjusted without stopping.
3. Ten groups of parameters can be stored, and it is more accurate to change the varieties.
4. The servo motor is used for touch, and the positioning is more accurate.
5. Independent temperature control system, the accuracy can reach ± 1 ºC.
6. The horizontal and vertical sealing temperatures are independently controlled, which can be well applied to various composite films, aluminum films and other packaging materials.
7. The packaging styles are diversified, such as back seal, gusseting, even bags, punching, etc. 8. The production of bag making, sealing, packaging, printing date is completed at one time. 9. Clean working environment and low noise.
Vacuum packaging machine features
1. Exclude part of the air (oxygen) in the packaging container, which can effectively prevent food spoilage.
2. The use of packaging materials with excellent barrier properties (airtightness) and strict sealing techniques and requirements can effectively prevent the exchange of substances in the packaging, which can avoid food weight loss and odor change, and prevent secondary pollution.
3. The gas inside the vacuum packaging container has been eliminated, which accelerates the heat conduction, which can improve the sterilization efficiency, and also avoid the rupture of the packaging container due to the expansion of the gas during heat sterilization.


This machine is suitable for industries: food industry, pharmaceutical industry, electronics industry,chemical industry, etc.
It can vacuum pack food, solid, granule, paste medicine,chemical industry and rare valuables.
After vacuum, it can prevent oxidation, mildew, spoilage, moisture, etc., and keep
the quality and freshness to extend the storage period of products.